Welcome to Kerr Drug Careers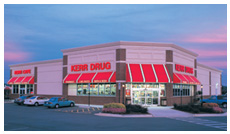 Originally founded in Raleigh by Banks Kerr in 1951, the chain was operating 97 stores when it was acquired in 1995 by JCPenney. In 1996, JCPenney also added Fay's Drug, Inc. in New York and 190 Rite Aid stores in the Carolinas to its existing Thrift Drug/Treasury Drug operation. In 1996, JCPenney's attempted purchase of Eckerd Drug Inc. raised serious FTC concerns of threatened competition in the region. The FTC ultimately forced JCPenney to divest itself of 34 former Kerr Drug stores and 130 Rite Aids in Carolina. This entity was to become the "new" Kerr Drug. JCPenney approached over 20 serious bidders for the stores, but the Kerr name and 164 stores were ultimately purchased by a group led by former Thrift Drug executives who left the JCPenney organization following the Eckerd acquisition. The re-birth of Kerr Drug marked the return of a recognized and respected name in the chain drug industry to its roots in the Carolinas.
Pharmacist
Employment opportunities exist for full/part-time pharmacists throughout North Carolina. We offer competitive salaries, flexible schedules and comprehensive benefits packages. For additional information, please contact Joe Gibson at jgibson@kerrdrug.com
Store Managers and Assistant Managers
Employment opportunities in North Carolina. Become a part of a vital, company which values its associates above all! For additional information please contact Joe Gibson at jgibson@kerrdrug.com
Store Hourly Associates
Kerr Drug is always seeking qualified associates. We offer the following hourly positions in our stores:
Sales Associates/Key Cashiers
Pharmacy Technicians
Photo Lab Associates
We offer full and part time positions with flexible schedules. These positions are not available in all stores at all times. To determine which opportunities are available at your local Kerr Drug, please visit the store and ask to speak to the manager (click on store locator to find the nearest store to you).

Thank you for your interest in working with us.

Please click on the menu above to Search For a Job or Submit an Application.